tropical fruit bowl w/ chia pudding & almond butter
This shop has been compensated by Collective Bias, Inc. and its advertiser. All opinions are mine alone. #StartAHealthyRelationship #CollectiveBias
Making the commitment to stop relying on vegan junk food and start celebrating fresh, mostly raw foods was life changing. When I tell you that fruits and vegetables have healed by body, I'm not exaggerating. I've never felt better in my life than right now. The super beautiful thing about detoxing and transforming your body with natural foods is that anyone can do it – and you don't have to have a perfect, raw vegan diet. See changes in your energy level, ability to focus, beauty of skin and so much more just by adding in more fresh produce. Eat more, feel better – you just have to eat the right things!
An easy way is to feast every morning on a big ol bowl of fresh, seasonal fruit. Make it interesting with toppings, chia puddings, even nut butters. One of my favorite fruit salad (or smoothie bowl) add-ins is a swirl of MaraNatha Creamy No Stir Almond Butter, which adds a decadent yet healthy layer of flavor. Hover over the image below to purchase MaraNatha products at Walmart.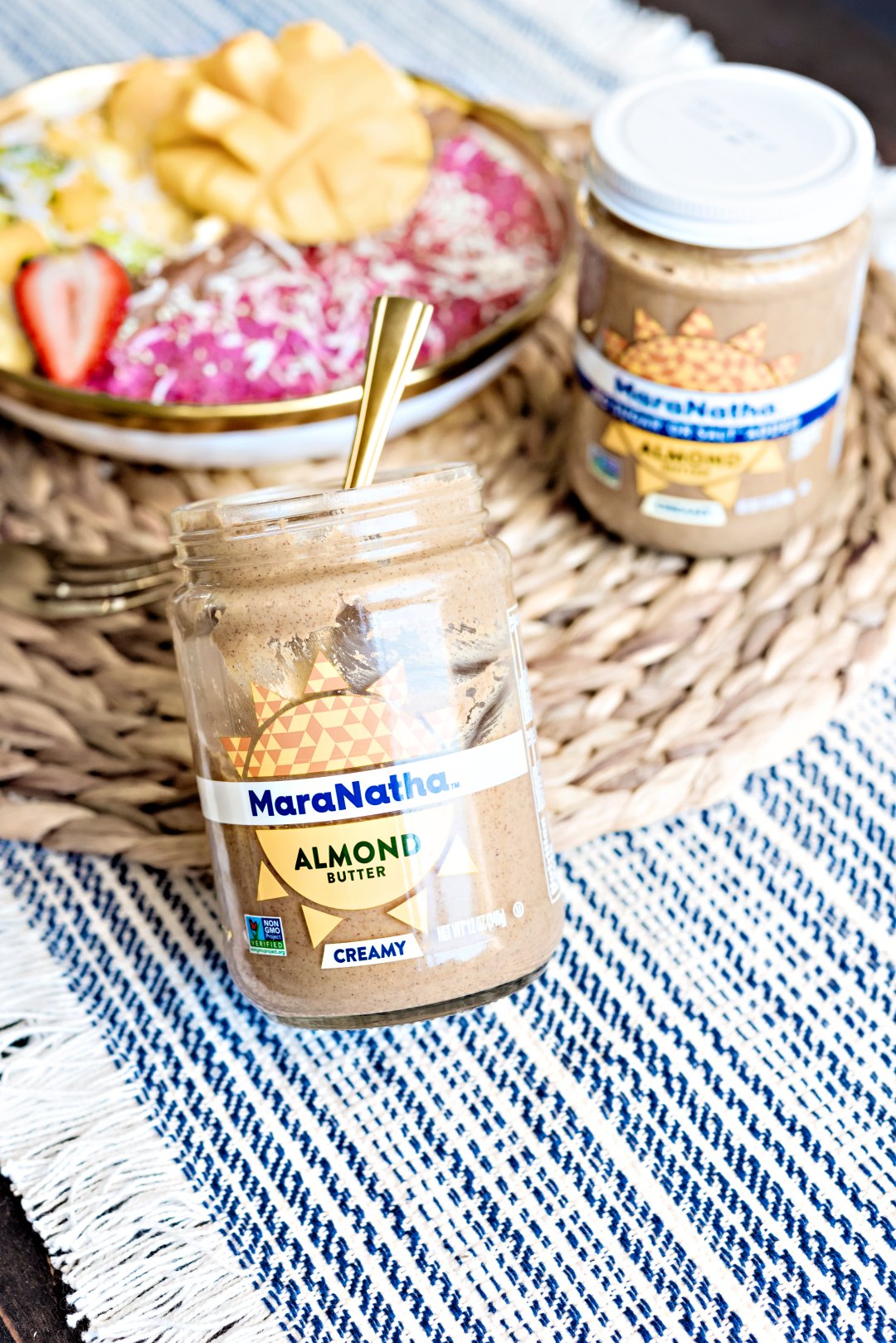 I've talked a bit about the recent detox when I only ate raw fruit for a week. Afterwards, I added back vegetables, seeds and nuts but have been holding off on everything else. Eat only fruit for a week and you will see how much you appreciate the variety and excitement that veg, seeds and nuts give! Even though I am eating other foods, I still eat one or two bowls of fruit every day for breakfast and brunch. Fruit has a powerful detoxifying effect on the lymphatic system, which is the heartbeat of any detox.
I feel like fruit has gotten a bad rap in recent years. With so many people looking for a magical diet to lose weight, the "sugar is sugar is sugar" mantra has been perpetuated. It isn't true though and what I've personally seen has been quite the opposite. With a daily diet loaded with fruit sugars, I've not only lost a couple of pounds but my fasting blood sugar level went down! Food for thought, eh?
The best way to stick with any nutritional diet plan is to make it interesting. Anything can get boring with repetition. A fruit bowl can be enhanced with so many different types of foods that not only add new texture and flavor but nutritional value. Here are my favorite fruit bowl additions:
fruit bowl topping ideas
amaranth
coconut flakes
granola or cereal
chopped nuts
cacao
dried fruits
chia seeds or chia pudding
nut butters
honey, agave or maple syrup
dairy-free yogurt
9 times out of 10, I'm adding a chia pudding to my fruit bowl. It took a minute for me to get used to the texture, but if your goal is nutrition, chia can't be beat. Chia seeds leave most all other healthy foods in the dust when it comes to: calcium, potassium, magnesium, Omega-3, antioxidants, iron and fiber. Mixed with a protein-rich nut milk, it's a superfood pudding. I also like to add either spirulina powder (which turns it a green-blue) or beet juice (which turns it hot pink) for bonus nutrition.
On days where I really feel like treating myself, I add an almond butter swirl or stripe to my fruit bowl. Sometimes I'll whip it quickly with almond milk to thin it a bit, but almond butter gives this incredible healthy decadence to any fruit or smoothie bowl. Nutrition is still key so I only choose the best brands and my absolute favorite is MaraNatha.
MaraNatha is one of America's largest producers of high quality natural and organic nut butters and it's my fav. It is the perfect choice for us health-conscious folks who crave not only health benefits but big flavor. When it comes to nut butters, quality is everything. You can definitely taste the difference. Hook-up your fruit with the best possible nut companion – MaraNatha Creamy No Stir Almond Butter.
Swirled with my red beet chia pudding, my daughter calls this my "peanut butter and jelly bowl". It definitely does have that feel, but with SO much more nutrition. I love MaraNatha Creamy No Stir Almond Butter because it is the perfect way to enjoy the great taste and natural goodness of almonds and there is no need to stir… no excessive oil separation to deal with. MaraNatha uses only the finest heart-healthy* California almonds, roasts them to perfection and double-grinds them to velvety smoothness. The result is so rich and creamy… perfect for everything from fruit bowls to AB&J sammies.
I have to admit, both of my kids are super picky about their nut butters. They do not not care for the separated "natural" kinds so a no-stir alternative is just perfect for them. Find MaraNatha Creamy No Stir Almond Butter and also MaraNatha No Salt or Sugar Added Almond Butter at Walmart alongside the coconut version which is to die for. Your healthy fruit bowl deserves only the best!
Earn cash back on MaraNatha with Ibotta here!
Stay in the know with MaraNatha on Facebook and Instagram
tropical fruit bowl w/ chia pudding & almond butter
2 cups tropical fruit, cut into chunks (pineapple, mango, kiwi)
1/2 cup beet chia pudding
3 Tbl MaraNatha Creamy No Stir Almond Butter
toppings (I chose coconut flakes and amaranth)
optional mango and kiwi garnishes
Prepare a bowl 1/3  – 1/2 full of tropical fruit to one side. On the other side, scoop in chia pudding. To the middle, add a line of MaraNatha Creamy No Stir Almond Butter.
Sprinkle coconut flakes and amaranth over top or toppings of your choosing. Top with fruit garnishes.
Serve alongside a fresh coconut water and enjoy!