why you should be taking Omega-3s for heart health
This shop has been compensated by Collective Bias, Inc. and its advertiser. All opinions are mine alone. #NatureMadeHeartHealth #CollectiveBias 
As far back as I can remember, I have been fascinated with nutrition and how it affects our bodies. It was my major in college and my late night internet obsession – and still is! When you see how much better your body works when provided with the right nutrition, you'll never give up the passion. My supplement cabinet is always stocked with items, and one supplement that every cabinet needs is Omega-3. Omega-3s naturally are found in fish (also chia, flax and hemp seeds) and are a necessary part of our healthy diet. We often don't get enough and our bodies require a supplement – but which one to choose, right?
I definitely know that shopping for supplements can be overwhelming. The aisles go on endlessly, so many options, and I overthink everything. You'll see labels with fish oil and others with Omega-3s – what's the difference? Fish oil is a great source of naturally occurring Omega-3 fatty acids. These are healthy fats that you need in your diet and the two primary Omega-3 fatty acids are EPA and DHA. Omega-3s (EPA & DHA) have long been studied for their important roles in supporting heart health. In fact, there has been so much research showing the link between EPA/DHA & heart health support that the FDA approved a qualified health claim that "supportive but not conclusive research shows that consumption of EPA & DHA Omega-3 fatty acids may reduce the risk of coronary heart disease."  **
When I'm strolling down the vitamins & supplements aisle in Walmart, I reach for Nature Made® Ultra Omega-3 935mg EPA+DHA, One per Day, Burpless​ supplements that clearly call out the amount of EPA & DHA Omega-3s on the front of the label. This is new packaging helps shoppers to navigate the vast "fish oil" segment of the aisle, ensuring our confidence that we found the right Omega-3 supplement!
If you've been taking fish oil for awhile, you are probably familiar with the fish-burps. :/ This has long been the downside of taking Omega-3 supplements but Nature Made® offers many "Burpless" Omega-3 options! Nature Made's Burp-Less formula Fish Oil is specially coated to help prevent a fishy odor and aftertaste – and they really work. My go-to is Nature Made® Ultra Omega-3 935mg EPA+DHA One per Day (burpless, of course). These are highest strength Omega-3 products that Nature Made® offers, and like the name states, you only have to take one a day.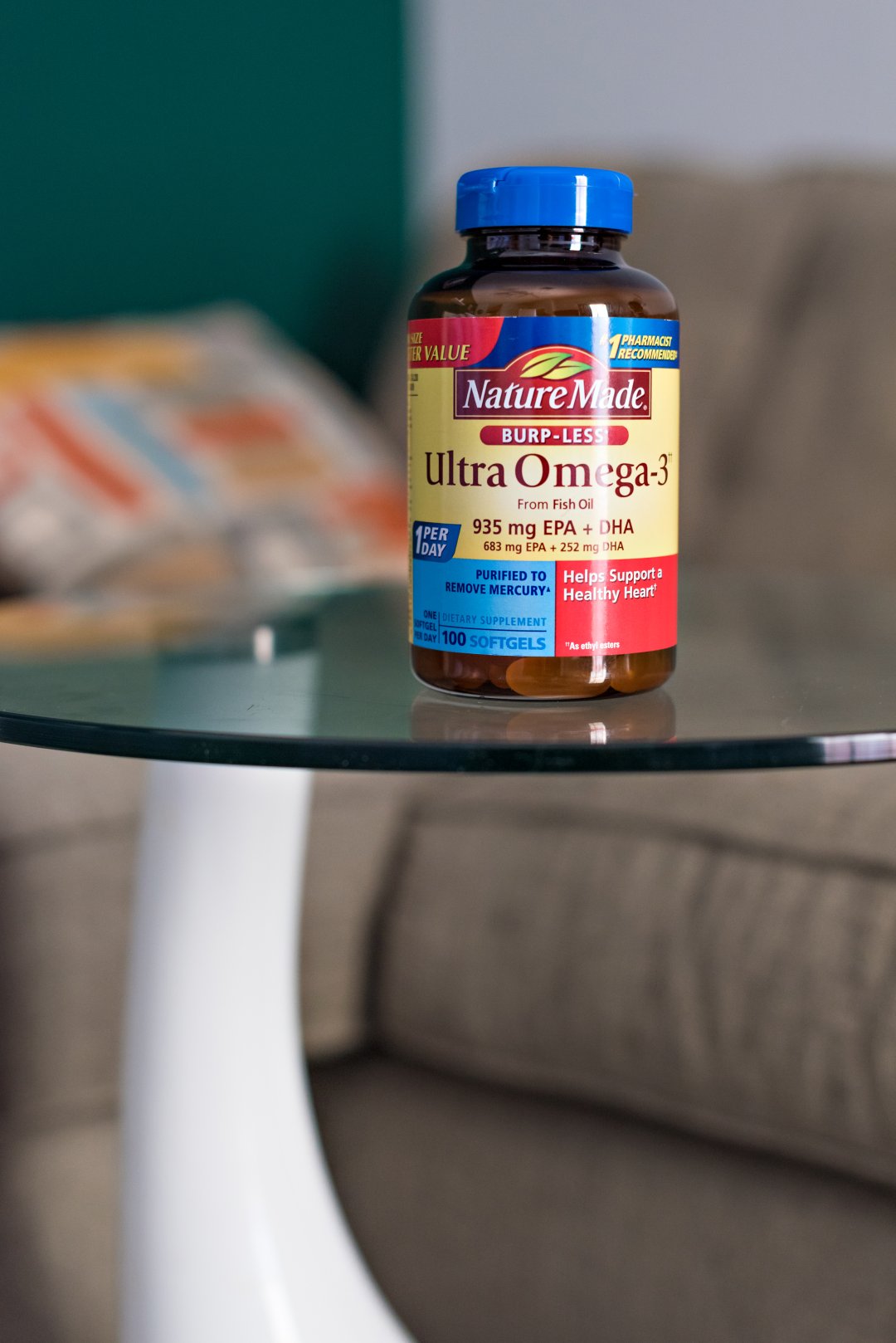 I go with this brand often because Nature Made® is the #1 Pharmacist recommended vitamin and supplement brand.* Their Omega-3 supplements have been purified to remove mercury‡ and contain no artificial flavors, colors, yeast or starch. Also important to note, Nature Made® fish oil supply only comes from wild caught ocean fish, not farm raised fish. You can find the range of products available at Walmart in the vitamins & supplements aisle. Text OMEGA3 to 555888 and watch a quick video from Nature Made® to learn more about your Heart Health and Omega-3s at Walmart.

​ * Based on a survey of pharmacists who recommend branded vitamins and supplements.  ‡ State-of-the-art purification processes to remove PCBs, dioxins and furans, and mercury to ensure purity levels below 0.09 ppm, 2 ppt WHO TEQs, and 0.1 ppm respectively.
** U.S. Food and Drug Administration. Summary of Qualified Health Claims Subject to Enforcement Discretion: Omega-3 Fatty Acids & Coronary Heart Disease. Accessed 15 March 2017. https://www.fda.gov/Food/LabelingNutrition/ucm0739