after-school play break ideas
This shop has been compensated by Collective Bias, Inc. and its advertiser. All opinions are mine alone. #PlayWithPlaymobil #CollectiveBias
School is back in session and while it's important for kids to learn all the things, it is also important for kids to PLAY. When kids play, they are able to use their creativity, develop their imaginations, improve dexterity and raise cognitive function. Play is scientifically proven to boost brain development and kids tend to learn more when they are having fun. So when the kids get home from school (or are done with their homeschool lessons) what they need most is a play break with mom and/or dad.
Play breaks can come in many different forms (ideas below) but one that will always promote imagination and cognitive development is PLAYMOBIL toys. PLAYMOBIL imaginative play sets are focused around kid-favorite iconic figures, both realistic (police, firemen, hospital) and fantastical (modern day dinosaurs). Click below to shop PLAYMOBIL sets on the Walmart website.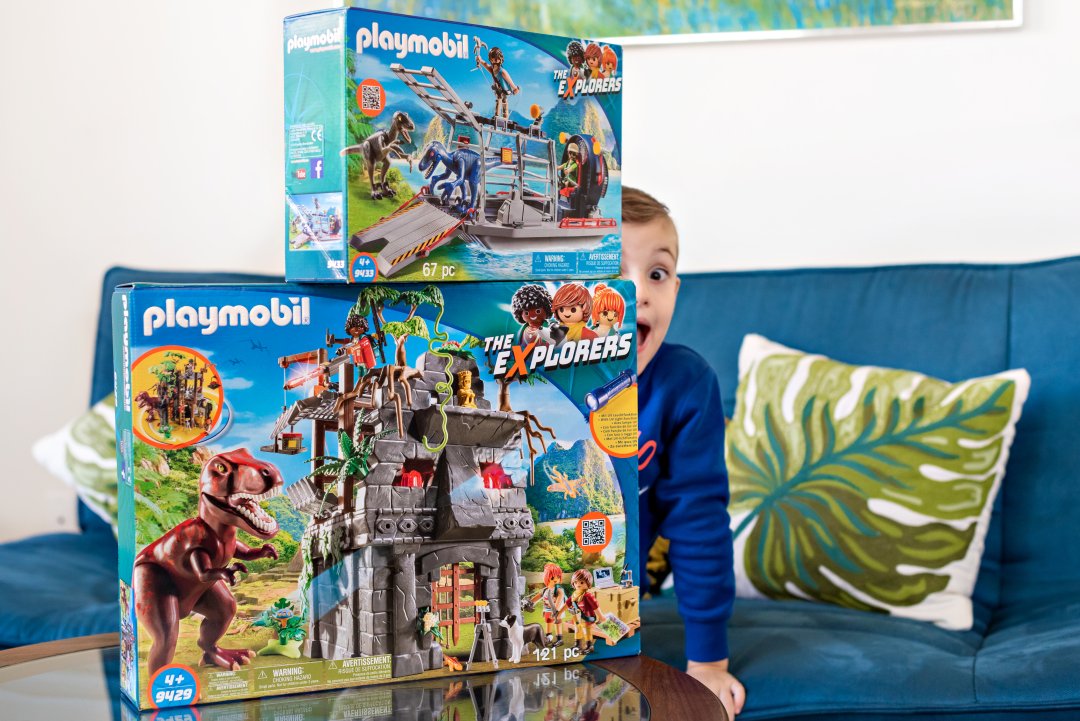 Hover over the image above for more information on PLAYMOBIL products and purchase your sets!

after-school play break ideas
physical exercise
Even though the kids might be exhausted mentally, they still have some physical energy left to burn. It's best to really tire them out so they can have a nice, deep sleep, and every kid (and parent) could use a little more exercise in their day! My favorite summer exercise ideas: swim in the pool, go for a bike ride, basketball game in the driveway, flag football in the yard or whatever your favorite sport is to play at home. Another option is taking them to a local kids gym, indoor trampoline park or just your neighborhood playground.
board games
Continuing education past school hours is easy with family games. Choose games (board, dice, etc) that contain math and/or strategy at the appropriate level for your kids. Family game time is also great for bonding with quality time spent away from electronics. I don't know a kid who wouldn't love a game session with mom and dad!
Pinterest- inspired activities
If you're a homeschool mom, you are probably used to incorporating lots of DIYs and crafts into your school lessons. While Pinterest always has great projects to incorporate into educational plans, it also has plenty of silly activity ideas as well. Let your kids leave school behind for an hour with a fun project based around topics they love. Make slime, make jewelry, make a fort – make whatever your kids would have the most fun with. Of course, the homeschool mom in me says even the least educational projects are still a chance to learn!
building sets
Generations grow up and new are born – but one thing stays the same. Kids (and grown kids) love building sets. My kids are a good amount apart in age – 11 and 5 – but one thing they can always agree on is a building set. They love to create them together, taking tons of tiny pieces and creating something big and magical. They are educational in a way, but mostly they are relaxing to build (great for quiet play) and offer kids a big sense of accomplishment.
I'll be honest; there are days I just have nothing left to give after homeschooling and chauffeuring the kids around to sports practices and other obligations. On those days, I reach for building sets. Building sets like PLAYMOBIL are ready-made entertainment for kids and perfect for siblings playing together.
PLAYMOBIL imaginative play sets are high-quality products with a strong attention to detail. As the kids put these sets together, I was continuously amazed with all the tiny details like endless accessory pieces and stickers. There is nothing basic about these building sets. My son is dino-obsessed so when we went to Walmart to pick out one or two PLAYMOBIL toys, I wasn't surprised with his choices. These PLAYMOBIL sets are a family classic but they are new to Walmart. Find them in the toy section with similar products.
Gabe chose:
PLAYMOBIL Hidden Temple with T-Rex
PLAYMOBIL Explorers Enemy Airboat with Raptor
We're currently studying dinosaurs for the month of September, so I was happy with his choices. As a homeschool mom, I prioritize play and see the value it has when integrated with lessons. When I see Gabriel nearing his breaking point during traditional learning, we simply take a break and play with these incredible dino-themed sets!
The PLAYMOBIL Hidden Temple with T-Rex is a very complex set but is not difficult to build. There are large pieces, LOTS of small detail pieces and very easy-to-follow instructions. The pieces interlock very well together, which is nice because once the set is built, my son likes to play with it for weeks before we break it down to build another day. Unfortunately my cats also like to play with his toys so they have knocked it over many times. Much to my surprise, the set stands up well to kitty destruction! Have a closer look at the details:
The second set Gabe decided on was an easy choice: PLAYMOBIL Explorers Enemy Airboat with Raptor. It complimented the larger set and contained his big sister's favorite dinosaurs: raptors! This set is really fun for kids who like transportation toys. The airboat is fun to drive around on the carpet while trying to capture (or free) the velociraptors. Again, no detail is missing!
Learn more about PLAYMOBIL sets here!